PIRATE DECK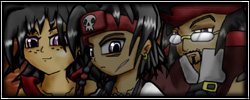 How it works
Pirates are very aggresive. Each of them can give up their attack for the turn in exchange for playing another character from your deck for free! Pirates can be very intimidating. That's why they are one of the top decks around. They work incredibly well as a team allowing them to cast spells with an undead skeleton, blow up walls in your path with a cannon, or simply power them up with the pirate ship.
Form the crew
Depending on which build you use, your outcome will different. Sure, you can use all the pirates and their search targets, but I find this to clutter and slow the deck down a bit. For the Dusk build, you want to start with Mystery Door to search for either two copies of Blackberry, or 1 copy of the Captain and 1 Copy of Dusk if you have Revival Powder to guarantee both. After you have both, play Dusk, search for Necromancer, have her do the Transfiguration spell, and turn Dusk into the Captain who will then give you a free Nightraider Ship! Now all your pirates are stronger and faster and you have 3 characters on the battlefield! Doing this every turn puts the opponent in a tight spot fast.
Steal and Conquer
Most pirates have the archery skill combined with swordplay and the steal ability. You can take out most characters from anywhere with them so speed cards are rarely needed except in the Dawn build where Clockworks require them.
Invade their Land
If you have nothing to kill, then invade their entry points. Transportal plus Necromancer equals a free protection. Heck, even switching your Dusk for a Boat is a great trick that might net you that honor still.
DUSK FOCUS DECK LIST
DECK LIST
| IMAGE | QUANTITY | NAME | TYPE |
| --- | --- | --- | --- |
| N/A | 4 | Captain Blackberry | Character |
| N/A | 4 | Night Raider | Character |
| N/A | 4 | Dusk | Character |
| N/A | 4 | Necromancer | Character |
| N/A | 4 | Min Min | Character |
| N/A | 2 | Blaster Bomb | Item |
| N/A | 4 | Mystery Door | Item |
| N/A | 4 | Revival Powder | Item |
| N/A | 4 | Book of Ideology | Item |
| N/A | 4 | Transportal | Counter |
| N/A | 4 | Shield Barrier | Counter |
| N/A | 4 | Trap Door | Counter |
| N/A | 4 | Iron Glove | Equipment |
SUB-DECK LIST
| IMAGE | QUANTITY | NAME | TYPE |
| --- | --- | --- | --- |
| N/A | 2 | Heavy Axe | Weapon |
| N/A | 1 | Shield of Triumph | Weapon |
| N/A | 4 | Falcon Spear | Weapon |
| N/A | 2 | Ball & Chain | Weapon |
| N/A | 1 | Magic Staff | Weapon |
| N/A | 1 | Fairy's Fortune | Spell |
| N/A | 1 | Caduceus | Spell |
| N/A | 3 | Transfiguration | Spell |
DAWN FOCUS DECK LIST
DECK LIST
| IMAGE | QUANTITY | NAME | TYPE |
| --- | --- | --- | --- |
| N/A | 1 | Clockwork Juggernaut | Character |
| N/A | 2 | Clockwork Knight | Character |
| N/A | 3 | Captain Blackberry | Character |
| N/A | 2 | Night Raider | Character |
| N/A | 4 | Dawn | Character |
| N/A | 3 | Rolling Cannon | Character |
| N/A | 4 | Min Min | Character |
| N/A | 4 | Overgrow | Item |
| N/A | 4 | Mystery Door | Item |
| N/A | 4 | Revival Powder | Item |
| N/A | 4 | Book of Ideology | Item |
| N/A | 4 | Transportal | Counter |
| N/A | 4 | Shield Barrier | Counter |
| N/A | 3 | Trap Door | Counter |
| N/A | 4 | Rabbit's Foot | Equipment |
SUB-DECK LIST
| IMAGE | QUANTITY | NAME | TYPE |
| --- | --- | --- | --- |
| N/A | 2 | Heavy Axe | Weapon |
| N/A | 1 | Shield of Triumph | Weapon |
| N/A | 4 | Falcon Spear | Weapon |
| N/A | 2 | Ball & Chain | Weapon |
| N/A | 1 | Magic Staff | Weapon |
| N/A | 1 | Fairy's Fortune | Spell |
| N/A | 1 | Caduceus | Spell |
| N/A | 3 | Transfiguration | Spell |